Oregon ranks third in the country for teenage drug problems
Adolescent substance abuse is a nationwide problem. But for a number of reasons, certain drugs hit specific areas of the country harder than others. Want to know more about drug trends in your area?
Compiling data from several studies, the report looked at all 50 states. It gave them scores based on how they ranked in several categories including overdose rates, individual drug use and addiction rates, and the number of people age 12+ who used drugs within the past year.
What is Oregon's Teenager Usage?
by: Andrew Foran
Jan 20, 2023 / 11:33 AM PST
PORTLAND, Ore. (KOIN) — A new report by the National Drug Helpline shows Oregon has the worst drug problems in the United States.
According to the report — which used statistics from the National Center for Health Statistics and the National Survey on Drug Use and Health 2018-19, among other sources — Oregon ranked the worst in the country for pain reliever misuse.
Although not ranked worst in many categories, the report gave Oregon consistently low scores, which ended up awarding Oregon the worst state award.
With a maximum total score of 100, Utah ranked best in the nation with a score of 88, and Oregon was lowest with a score of 43.
Help us – help teens not to become drug users by recycling water bottles ….. Just Wait Teens
Help us – help teens not to become drug users by recycling water bottles ….. Just Wait for Teens
How can recycling water bottles prevent teenage drug usage?
We reward teenagers for the behavior we want. Any teenager in Lincoln County who will take the pledge and abstain from drugs, alcohol, and tobacco until they graduate from high school will receive one (year) paid college tuition + books at the local Community College.
Where does $2000 come from?
Just Wait Teens earn money by recycling water bottles and soda cans and turning milk jugs into products. With Demand Manufacturing
We do everything with the water bottles & soda cans … no cost or labor
We provide the Collector Bin
When full, we replace it with an empty bin, just call 541-765-2109
LOCATIONS of Water Bottles and Soda Can COLLECTORS ……
82 Siletz Hwy
Siletz Tribal Center (coming soon)
More to follow
If would like a collection bin at your location call 541-765-2109
We need your support, water bottles, and soda cans
Recycling plastic is a complex process. Dedicated bins for plastic waste are a common sight, and plastic recycling is widely promoted. So why is only 5% of the plastic we toss get recycled?
The most important reason is that there is a minimal financial incentive to recycle: It's far less expensive to manufacture most types of plastic from scratch than to recycle old plastic into something new. As a result, the least recyclable plastic products include many labeled with the numbers 3 through 7 in the recycling triangle and the majority of plastic bags and packaging film.
However, certain types of plastic are economically viable, relatively easy to recycle, and even in high demand. These include PET plastic bottles, like the ones in which soda and water are sold
That is the type of plastic that the Just Wait Teens will start collecting in this type of container.
Only number 1 is recycled consistently; labeling other items as "check locally" inside a recycling triangle is just greenwashing, Dell says—a way for a company to imply that something will be recycled when it will almost certainly end up in a landfill.
The number in the triangle symbol indicates which plastic containers can be recycled.
Always Recyclable
Always Recycled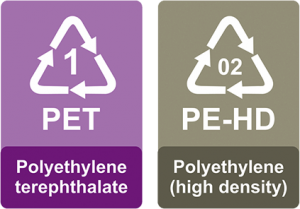 These plastics are widely recycled across the world, and it is recommended to recycle as much if not all of these plastics if possible to reduce the amount of waste produced. This includes; drinks bottles, milk and juice jugs, containers for household products, etc…
Sometimes Recycled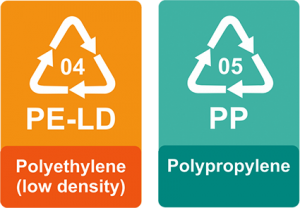 As for the second group of recyclables, it would be advised that you contact your local recycling center to see if they accept said types of plastics to ensure that they are in fact recyclable at your local plant. We do not accept these types of plastics. These include; Food take-out containers, and bread bags; most shops brought plastic bags, microwaveable containers, plastic rings off of drinks cans, etc…
Rarely Recycled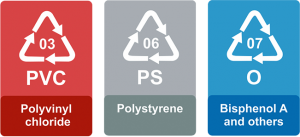 The final category of plastic is rarely recycled and is usually destined for landfill. Hopefully, as technology advances, these will become more widely recyclable. These include; Styrofoam cups and plates, PVC (Polyvinyl-chloride), plastic lids, nylon, and anything that is only part plastic.
In theory, sorting plastics and depositing only readily recyclable types into the recycling bin would help fix this problem. (According to a May 2021 nationally representative survey of 2,079 U.S. adults by CR (PDF), 65 percent of Americans say they typically separate plastics for recycling.) But U.S. recycling trends have worked against this type of careful sorting. Many municipalities have switched to single-stream recycling, in which aluminum cans, glass bottles, plastic jugs, and paper and cardboard all get dumped into the same bin. That can make things easier for the consumer. Still, it also makes sorting out the recyclable plastic more complex, so more ultimately ends up discarded rather than recycled, says Brandon Wright, vice president of communications for the National Waste & Recycling Association.
The Just Wait Teens are attempting to solve this problem by only collecting one type of item. If this is successful, more collectors will be added for different items.
THE JUST WAIT TEENS NEED SUPPORT IN THREE (3) AREAS
Locations to put their Collector Containers …. We Need:
Drive Up Locations where Milk Jugs can be placed in the Container from the vehicle
Should be in a out of the normal traffic flow.
If you have a location where the Just Wait Teens can place a Collector, please call 541-765-2109 or email nextday@vol.com
Milk Jugs
Check if a "2" is inside the triangle on the bottom of the jugs.
Jugs need to be rinsed and cleaned… if not, then they will go to the landfill
Label removal is optional. If removed, it will improve the work of the recycling process
Parents & Teens
Teens between the ages of 8 – 13 to take the pledge
Must be a Lincoln County resident
Complete the Just Wait Teen questionnaire.
Interview with a Sustainable Mentor (Big Brother (Sister)
Sign their pledge and commit to spending at least 2-3 hours/month with Big Brother (Sister)
Parents sign a waiver liability form
The parent agrees to provide transportation for Just Wait Teen to be with Big Brother (Sister)
Sustainable Mentors for Teens Needed (like Big Brothers/Sisters)

Sustainable Mentoring is a type of mentoring that focuses on creating a long-term relationship between mentor and mentee. The goal of sustainable mentoring is to provide a safe and supportive environment where both the mentor and mentee can grow and develop. It is also focused on teaching skills and knowledge that will last beyond the duration of the mentoring relationship.

No therapy sessions or direct intervention. The Just Wait Teen Sustainable Mentor is not a social worker, just a friend.

You will spend 3-4 hours per month with a Just Wait Teen working on projects at the Sustainable Living Center, listening to them and sharing information.

Must be drug-free (not even medical drug cardholders accepted)
No alcoholics (alcoholics are defined as someone that drinks between 8 am and dark)
No smoking in the Just Wait Teen workspaces
Must be 21 years old or over.
Have an interest in Sustainable Living
Attend an orientation and interview.
Complete an application
Submit to a criminal & sexual background investigation
Provide references
Submit to a home visit
Participate in ongoing training and support.

If you are, or someone you know is, qualified, you could help a teenager avoid the risk of becoming addicted. Contact… 541-765-2109 or email nextday@vol.com …for more information.

If you have a location where the Just Wait Teens can place a Collector Bin, please call 541-765-2109 or email nextday@vol.com
If you have a location where the Just Wait Teens can place a Collector, please call 541-765-2109 or email nextday@vol.com
82 Siletz Hwy Lincoln City OR 97367