Keto and the Almighty Dungeness Crab
Five (5) nights and four (4) days (Sun night – Thur night ) at the Village at North Pointe in a luxury one-bedroom Pacific Ocean Front Condo with Unlimited Crabs Feast and a ketogenic lifestyle for $700. An extra bedroom is available @ $75/night
Three (3) nights and two (2) days (any three nights … including weekends) in a luxury one-bedroom Pacific Ocean Front Condo with Unlimited Crabs Feast and a ketogenic lifestyle for $700. An extra bedroom is available @ $75/night
The keto lifestyle is a low-carb, high-fat lifestyle. It can be effective for weight loss and improved health conditions (type 2 diabetes.)
It is a lifestyle, not a diet because you change:
What you eat (Dungeness Crab is the best Keto food to eat)
How it is prepared (With lots of butter)
When you eat (Before dark)
We call it a lifestyle because you will be on it forever once you start it.
A keto lifestyle is especially useful for losing excess body fat without hunger, and for improving type 2 diabetes.
On a keto lifestyle, you cut way back on carbohydrates, also known as carbs, in order to burn fat for fuel.
One of the best Keto foods to eat is Dungeness Crab
In the beginning, you'll learn all you need to know about ketogenesis, including how to get started to achieve the best results safely and effectively.
When you eat far fewer carbs, your body begins to burn fat for fuel. This can put your body into a metabolic state called ketosis. In this state, your liver turns fat into small energy molecules called ketones, which your brain and other organs can use for energy.
A Keto lifestyle lowers your insulin levels, which can help you access your body's fat stores for energy. Many studies show significant weight loss on keto without having to count calories. the Keto lifestyle may have other positive health effects, such as reducing blood sugar levels.
Below are typical foods to enjoy on a ketogenic lifestyle. The numbers in the green circles are Net Carbs per 100 grams (3.5 ounces) of food. The lower the Net Carbs the better the food for Keto.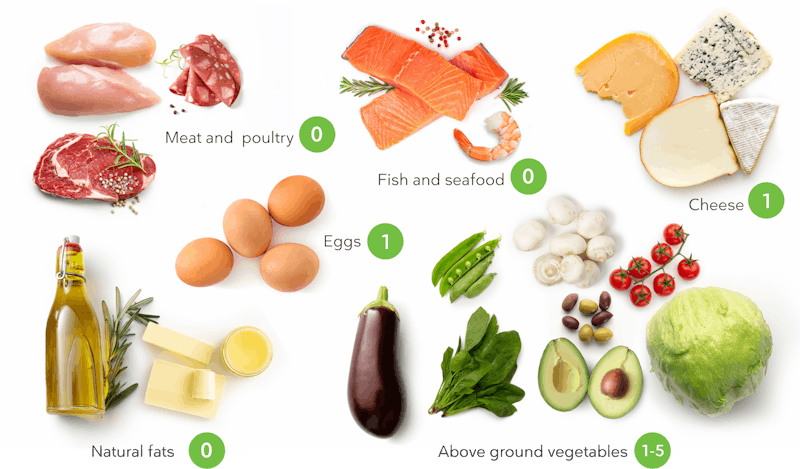 What's the most important thing to do to reach ketosis? Avoid eating too many carbs. You'll likely need to stay under 50 grams of Net Carbs (total carbs minus fiber) per day, ideally below 20 grams.
I personally have done this. In the last 12 months, I was not hungry and according to my last blood tests done in May 2022, I have:
Lost over 100 lbs
lowered my blood pressure by 20 points
,Reduced my A1C to 5.3 (type 2 diabetes indicator)
Reduced my PSA to 2.34
Found a way to stop an acid reflux problem
Before Picture ….. I am not done yet. I plan to lose another 50 lbs.
I am 84 years old … take NO prescription medications, DO NOT exercise (have bad knees), and I AM NOT a vegetarian.
The fewer carbs you eat, the more effective your body appears to be for reaching ketosis, losing weight, or improving type 2 diabetes.
Counting carbs can be helpful at first. But if you stick to our recommended foods and recipes you can stay keto even without counting.
Crab is a lot more than just delicious meat, it's incredibly healthy, boasting high levels of protein and omega-3. As a minimally processed food, it even comes free from harmful chemicals and is virtually carb-free. What's not to love about low-carb keto crab?
If you are new to the Keto Lifestyle and need some tips as a keto beginner, read the Keto Diet Plan and Advice for Beginners blog post Keto Diet Plan and Advice for Beginners. We also have many Keto Seafood recipe ideas to take a look at and try, 10 Best Keto Seafood Recipes. Low-Carb Seafood Lovers.
Crabs are shellfish keto-friendly and one of the best seafood to eat if you can afford them. They are a protein-rich food suitable for those on a keto lifestyle. And Dungeness Crabs are the best.
Whether you are a shellfish or seafood lover who can't get enough food from the sea or want to cut down on your red meat intake, this food is for you. Crabs are some of the best kinds of seafood you can eat on a ketogenic lifestyle due to their extensive health benefits.
The problem is how to get enough of them at a cost your can afford. Now, we have a solution.
YOU CATCH AND PRESSURE CAN THEM YOURSELF and we will teach you.
$700 Five nights, Four days (we take WorldMark Credits) Crabbing Sunday – Friday… Catch, Prepare, Cook, Eat, and Pressure Can Crab to take Crab home
One-bedroom ocean-front condo (check-in after 4 PM- check out before noon)
One hour Crab Clinic with personal & written instructions at the beach … DETAILS CLICK HERE
A Crab License entitles a person to catch12 Crabs/day = 48 Crabs. We will cook and clean @ $2.50/Crab. Free Unlimited Usage of three (3) Crab Traps for all four days … DETAILS CLICK HERE
Teaching, Cleaning, and Cooking are all the Crabs you catch …. ready to eat … DETAILS CLICK HERE
A picture with caught Crab posted free on Facebook … check it out @ CLICK HERE to see
You must provide the Crab bait (fresh raw dark meat chicken) and Oregon Shellfish license. CLICK HERE to purchase directly online from the state.
If you do not want to do the 4-day … 5-night Crab package, the following rates apply.
Per Night rates Cash or Depoe Bay WorldMark (two-bedroom credit rate)
Three (3) crab traps daily rate $50/day
Crab Clinic @ $25… no limit on the number of participants
Clean, cook Crab @ $2.50/each … ready to eat.
Sea Food Canning Clinic @ $75/3 hours + Jar cost $1 for 1/2 pint canning jar.
If you think the above was good and want to improve your health and lose weight, you will love our 2023 fall Catch Keto Retreat. For four days will catch Crabs, Clams, and Salmon, prepare eight (keto meals), and Can the extra to take home.
CLICK HERE For … Details, Dates, Times, and Price or go to www.CatchKeto.com … Are you interested?
Rate
Cost
Mon-Thur*
$175/night cash or may pay with Depoe Bay WorldMark Credits at rate of a two bedroom unit.
Extra motel style Bedroom in Club House $75/night} pay with Depoe Bay WorldMark Credits at rate of a three bedroom unit.
Fri-Sun*
$200/night cash or may pay with Depoe Bay WorldMark Credits at rate of a two bedroom unit.
Extra motel style Bedroom in Club House $75/night} pay with Depoe Bay WorldMark Credits at rate of a three bedroom unit.

*Three (3) night Minimum
Unlimited Use of Three (3) Crabs Traps and all Crabs caught will be cleaned and cooked ready for dinner
Call for Reservations or with Questions at 541-765-2109 or email @ nextday@vol.com
The condo is at the Village of North Pointe located next door north of the Worldmark Resort at Depoe Bay, Oregon.
Wave Song is the name we have given to this one-bedroom condo that provides the ultimate coastal accommodations with every luxury feature you could wish for. Surround yourself with the sights and sounds of the ocean. Enjoy the soothing colors while the spectacular waves and whales enchant you just off your deck.
The Lincoln City/Depoe Bay/Newport area is called the Whale Watching Capital of the World. The Crab Feast Package comes with everything you need except dark meat chicken to be used as crab bait.
See the video for the cost of a Cook Dungeness Crab ready for Dinner when bought retail.
The Condo Features
Lovely furnishings with a coastal cape cod lighthouse style are the perfect complement to the incredible view.
The condo has a King bed provides the perfect place for a couple or a family, Enjoy the breathtaking view and sounds of the crashing surf from the private covered patio and spacious.
.
Living Room – has a river rock gas fireplace.
The Whale Watching and Dungeness Crab boats come to the ocean right outside of your living room.
Questions? 541-765-2109 or Email: nextday@vol.com
Features of Wave Song Condo
Master Suite – King bedroom
Cable TV, VCR, DVD in Living Room
TV/VCR in Master Bedroom
Stereo/CD Player
Beautiful Well Equipped Kitchen
Large Tile Shower Master Bath
River-rock Gas Fireplace
Washer – Dryer
Dry-Bar
Private Oceanfront Deck
This condominium is located 70 ft from the ocean (at high tide) at The Village at North Pointe in Depoe Bay, Oregon The deck is so close to the ocean that you can actually hear the whales when they come up for air and blow.
The condo is non-smoking and Handicapped Friendly
Call for Reservations or with Questions at 541-765-2109
Oregon Virus Rules do limited pool use. at times
Relaxing 10-person hot tub in the Club House (at no cost )
20 X 40 ft Indoor swimming pool and exercise facilities
19 TV/DVD/VHS seat theater.
The Club House is available to you and your guests to use from 10:00 am to 10:00 pm. Children under 16 years of age are to be supervised at all times in this facility
Within easy walking distance to the quaint fishing village of Depoe Bay which has gift shops, galleries, and excellent restaurants.
Nearby are antique shops, a factory outlet mall, and seasonal activities.
You can explore the ocean on a Fishing or Whale Watching charter.
Local Activities
· Kayaking
· Horseback riding
· Boating
· Hiking
· Golf
· Aquarium
· Whale watching
· Fishing
· Ocean
· Water skiing
· State park
· Theatre
· Museum
· Scuba diving
· Kite flying
· Lighthouse Touring
· Outlet stores
· Antique shops
· Picnicking
· Casino
· Shopping
Airports
· Portland (PDX) 124 mi
· Eugene (EUG) 100 mi
Condo Mileage To:
· Salem, OR 73 mi
· Eugene, OR 105 mi
· Seattle, WA 281 mi
· Vancouver B.C. 426 mi
email:nextday@cablespeed.com
Call Carl Palmer 541-765-2109